The Back Story:
†
Mystery Driver #29 and #35
Ok some history about Bud "Moon Potter, born July 10,1943, his father Red Potter was winning sprint car races at Menands Speedway, started racing at the age of 16 car number 95jr at Menands Speedway, and 1st drove the Kurtzner 76 mini mod in 1974, with only one heat win and a best place 4th. From there it wasn't long before the Kurtzner Gremlin was built for the 75 season and trying to run as many races and Schaefer races as possible, and staying with his passion of Harley Davidson bikes, over the next years to come.
Scott Kurtzner
Second Photo:
A fantastic looking modified for sure, Scott K came through and delivered this picture of Bud Moon Potter.† According to Scott, this entry is the same car as the Kurtzner owned #76 that Mike Ehring drove to victory in 1976.
A side note that may be of only an interest to me.† Take a look at the L&R and Kennedy billboards in the background.† See the small patch in the middle of two?† For some stupid reason, I remember how they got there.† The newly formed amateur division (remember when they were called that?) had just got started, and all sorts of unprecedented wild things were happening.† Well one night, the driver and car pictured here, Dave Spickerman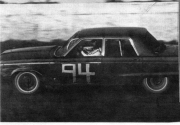 , had some issues coming out of turn two, and somehow ended up nose down with the ass end sticking 90 degrees upright, with the end result a big hole punched in the two billboards.
Third Photo: Nice composite shot of Moon Potter.† Look at them drag tires, and the rake in the car.† NOW THATíS A MODIFIED!
Fourth Photo: Classy looking operation as Moon is loaded up and ready to go for another nights action at Lebanon Valley.† Even though we needed the enclosed haulers as time wore on, if nothing else but for the security of it all with the thefts that go on nowadays, sure did like the way the race cars were hauled to the speedway back then.
Fifth Photo? POLICE BULLETIN: †The Potter # 17 car was stolen, we donít have any leads of when or where, all we have to go off of is this high tech Police composite drawing to go off of.† Anyone with info, Please call the station at 1-800-WE-RST-U.
LMAO, címon, what kid didnít do drawings of their favorite driver and submit them to the Kids Corner of the LV program?† What pride and fun was it for a kid to see his fine artwork on display for all the Valley fans to see.† Looking back at the old programs now, Iíve noticed half the kids doing the drawing went on to compete at LV in one class or another.
Article: After scanning a poem his wife wrote, Ed decided to keep going in the same magazine and scan this interesting story of Moon Potter from 1975. †