The Back Story:
I'll be honest, when I saw this photo, I had no clue who the #86 was.  Bobby Ely positively identified him as none other than Ric Lucia.  Nowadays, Ric needs no introduction, first as a Valley competitor, then maybe most famously as long time sponsor of the C.R. Lucia lap counter, to the now arch nemesis to LV and Howard Commander as the Promoter of Fonda Speedway.
I thought it would be fun to add here a ad I scanned out of the 1976 LV program of Ric's budding speed shop  business.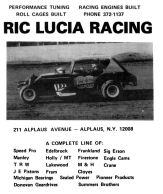 Here, Ric pulls out his inner Norelco electric owner Victor Kiam, and boasts about racing at Fonda "I liked the place so much, I bought it".